Head South young man and drive on the wrong side of the road
We picked up our camper van in Auckland and headed straight for the South Island. In all my research, all the cool stuff pointed towards the South Island. It was supposed to be a little rainier and cooler, but with Mountains and lakes and pristine beaches. We pulled out of the camper van pick up spot and Brenda drove 50 yards and said she couldn't handle driving on the wrong side of the road in a busy city. The drivers' side is also on the right side of the car. Double weird. Throw in a few roundabouts and you have mass confusion. I took over as we frequently stopped at Café's to pick up fruit and baked goods. There are café's all over the place and they are famous for their meat pies(think smaller pot pies) and their baked goods. Best baked goods I have ever tasted.
We drove several hours south and ended up staying near Tongariro National park in a campground with electric. The attendant kept pushing us to go see the glow worms. We politely declined. The next morning we headed for the ferry to the South Island. We had a little time to spare so we thought we would hit an Icebreaker clothing outlet along the way. For those of you unfamiliar with icebreaker, it is made of Merion wool and is made in New Zealand. We both have a rather large collection at home.
Driving through the rolling countryside of the north island one thing became very clear. The roads are much twistier and narrower than in the US. Distances are deceiving. They don't have a freeway system like we have. Most roads are 2 lane highways with lots of twists and turns.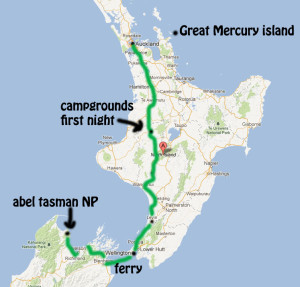 After a hearty brunch we headed for the town of Levin. We walked around town and stumbled upon a gear shop called Swazi. They claim they make the most rugged outdoor gear in the world. Their prices would suggest that. Very cool stuff and we could see them being made through a window of the store. I ended up walking away with a pair of socks and a hat. I couldn't see spending $600 on a jacket no matter how cool it was. Next stop was Otaki where we would raid the icebreaker outlet store. I walked away with about 5 pieces well below US prices. We hit Wellington early and waited in line to drive aboard the ferry. The ferry across took about 3 hours. It was very plush and not at all what I thought it would be like. They had a restaurant that served very good food and we hung out and watched a movie.
Upon arriving on the South island, we wanted to look for a spot to pull over for the night. We ended up on this crazy windy road that you could go no more than about 15mph. It was dark and driving on the wrong side of the road was still not comfortable. We finally pulled out on the side of the road. We weren't really sure where we were but when we woke up the next morning this is what we saw.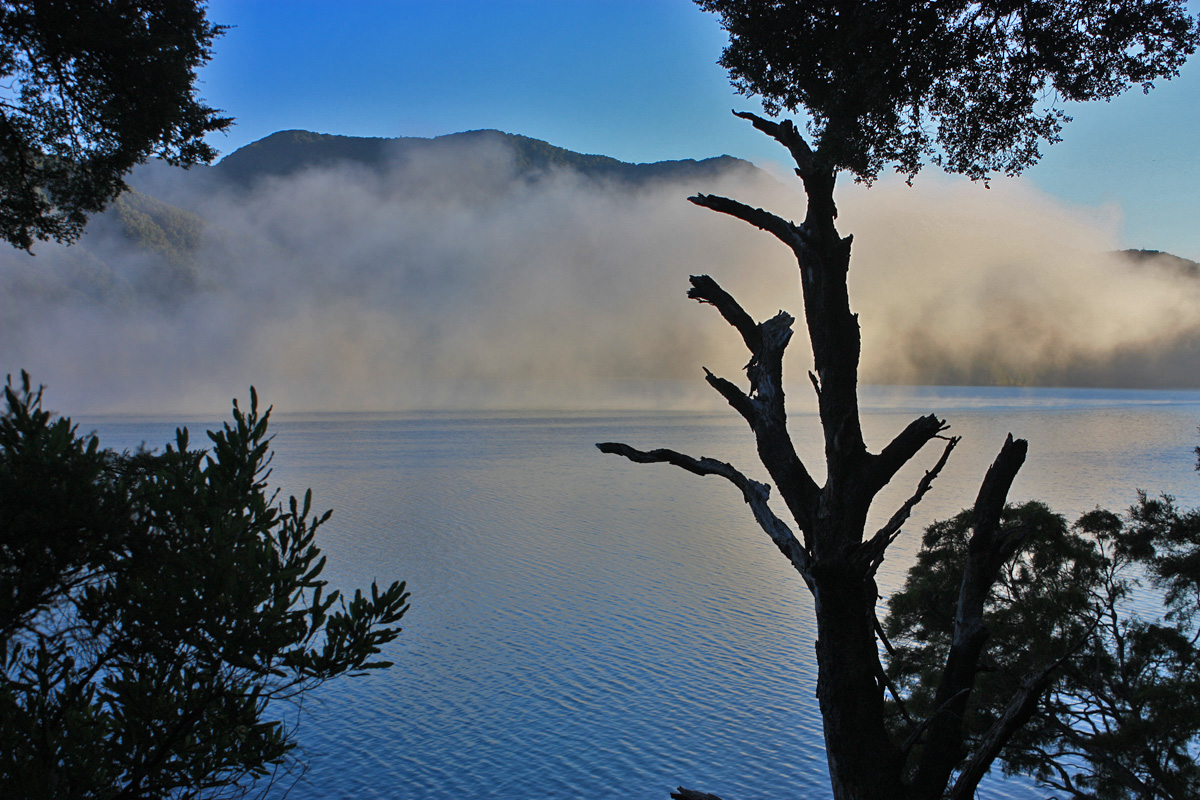 We got up and set the GPS for Abel Tasman national park. It is supposed to have some of the best Sea Kayaking in the world. It also boasts the Coastal track, one of New Zealand's 9 great walks. Their name for trails is tracks and they refer to hiking as tramping. There are 9 great "walks" with hut systems in place. They are anywhere from 3-5 day treks. We enjoyed the scenic ride over to Abel Tasman and I snapped this pic along the way.
We arrived in Kaiteriteri anxious to get some exercise after almost 2 days in the car. We rented a Kayak and paddled around for about 3 hours. We landed on a pristine beach and I couldn't resist taking this picture.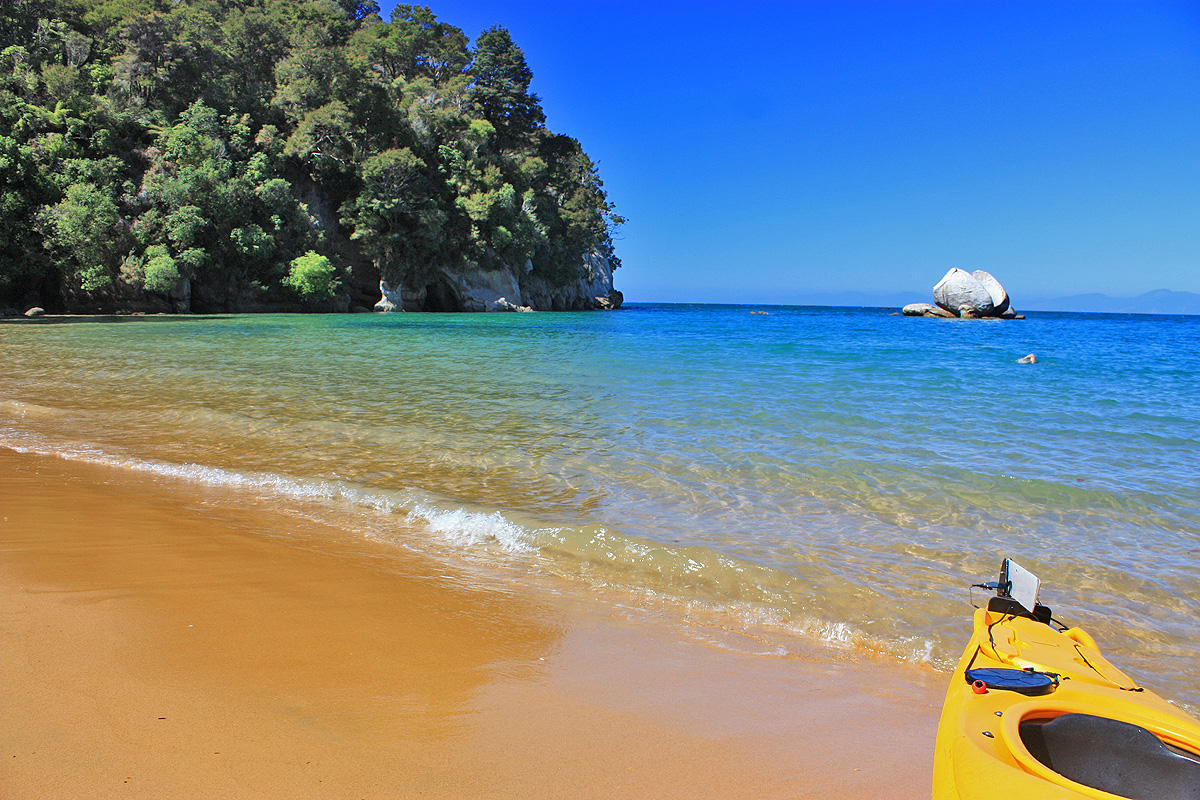 There were also some cool caves that we explored on the beach. After getting back from kayaking we tried our hand at paddle boarding. You stand up on a surf board and paddle like a canoe. I found it pretty easy to do but not very exciting. The day was still young so we decided to go for a hike on the coastal track. We went for about 2 hours and enjoyed some amazing scenery. We then came back and pulled in The Barn campground and called it a day.
The next day we decided to take the water taxi in the morning to Anchorage Bay and hike around and then hike back to the campground. It would be about a 10 mile day total. We hiked to Cleopatra pool and Brenda did the natural water slide while I snapped away.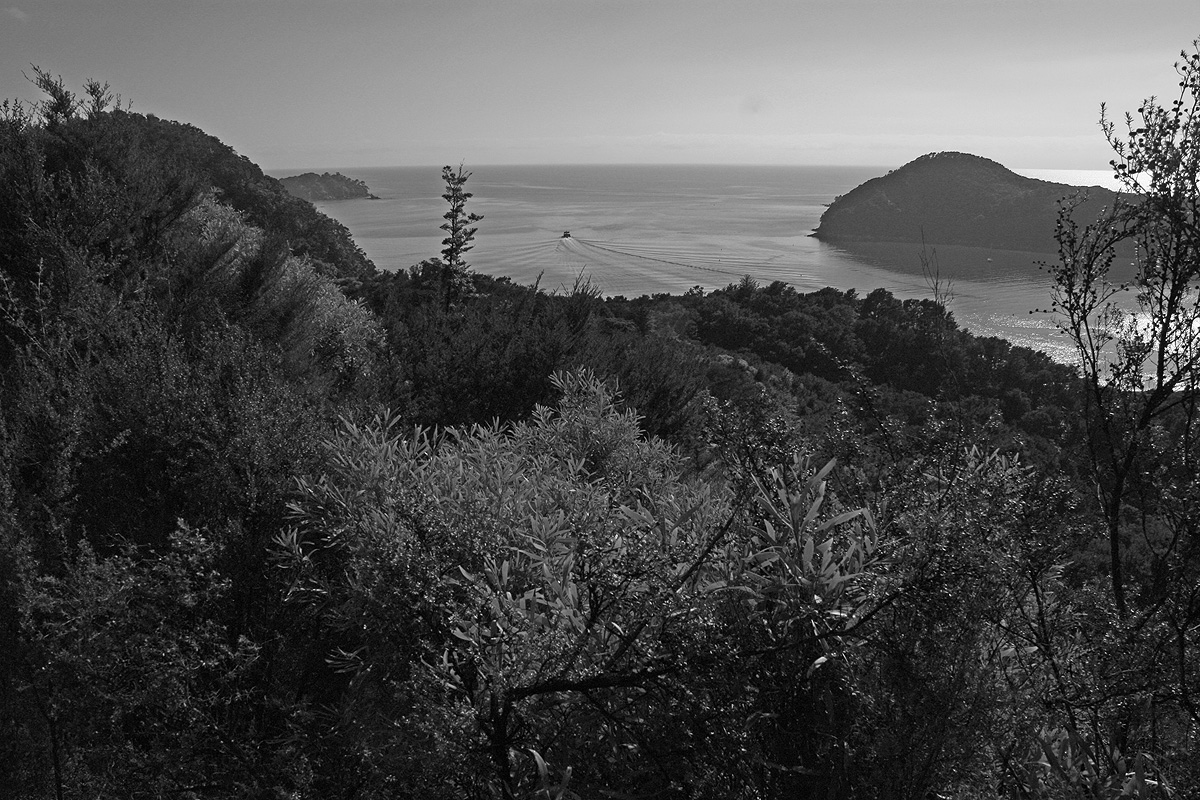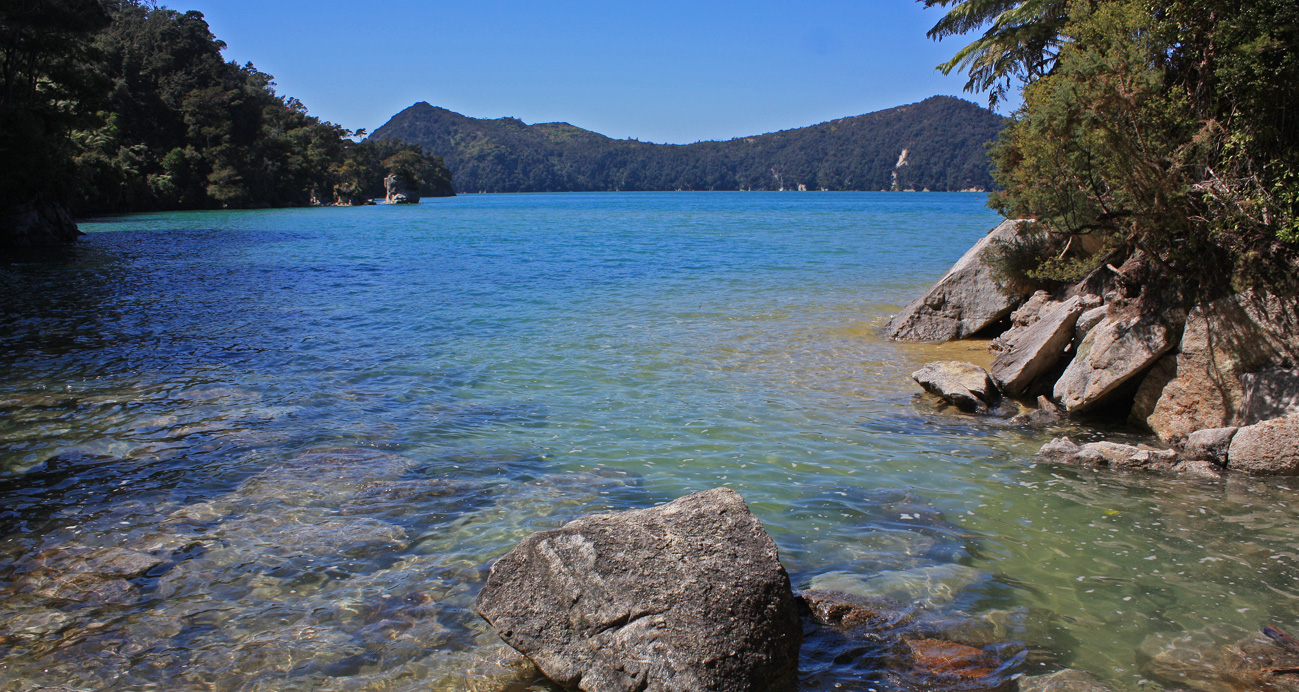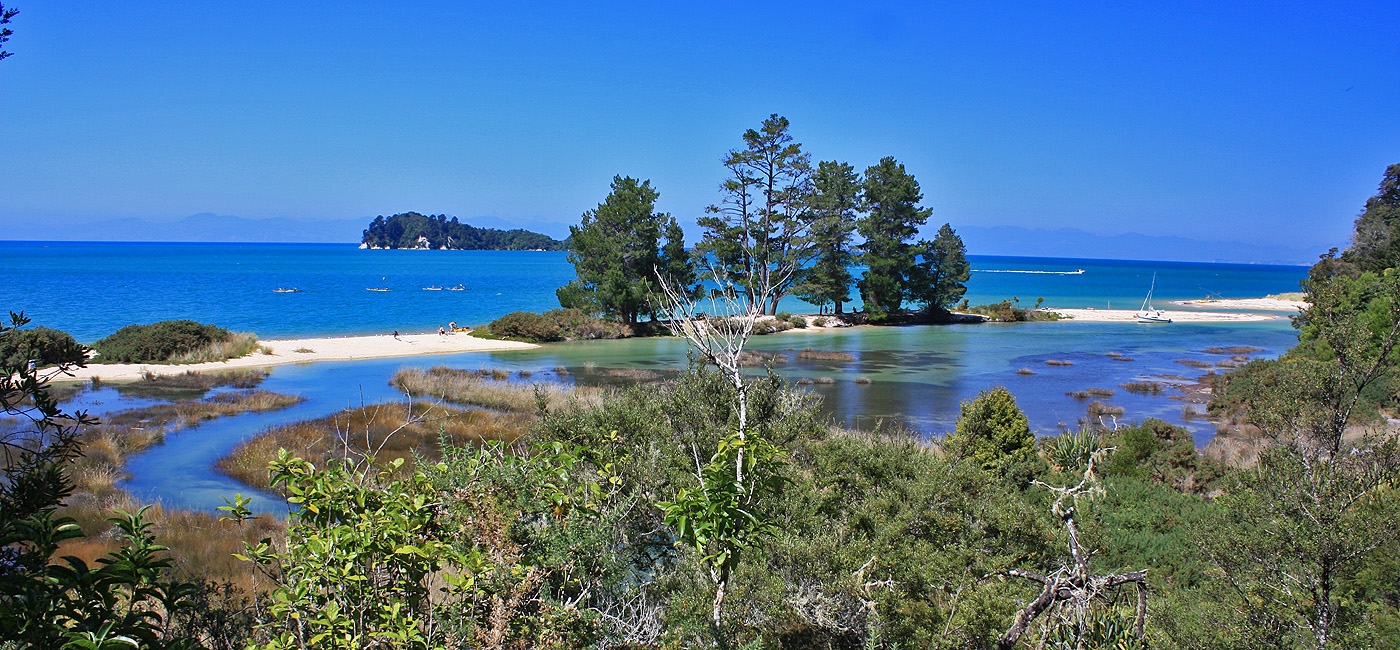 From the Sea to the Mountains
After hiking we decided to head for a small town called St. Arnaud. I had read there was supposed to be this epic hike that gets you to the tops of the St. Arnaud range. It's called the St. Arnaud range walk. We decided to stay in a small studio hotel to get a break from all the van time. It was very nice and roomy for about $130. St. Arnaud boasts a population of 85 which was a welcome change after the touristy areas around Abel Tasman.
We got going around 10am under mostly cloudy skies(still not a drop of rain the entire trip). The hike was about 10 miles and gained 3000 feet of elevation. The last bit was very steep. As you can see by the pics the effort was worth it.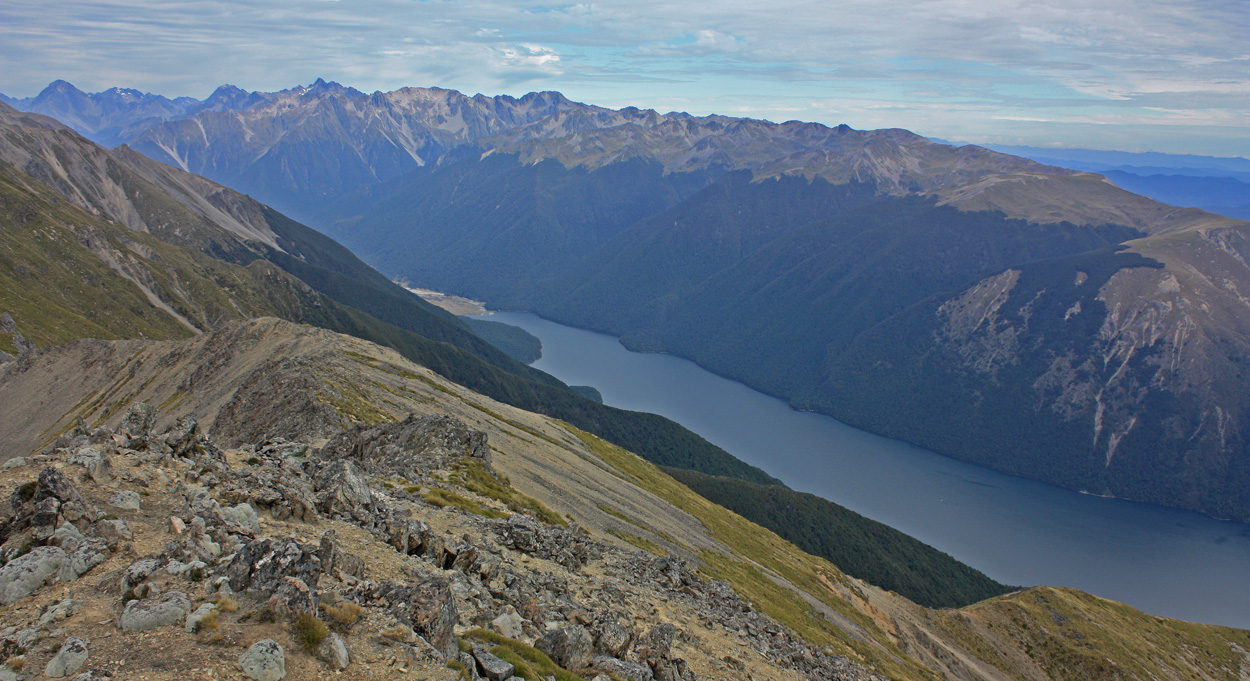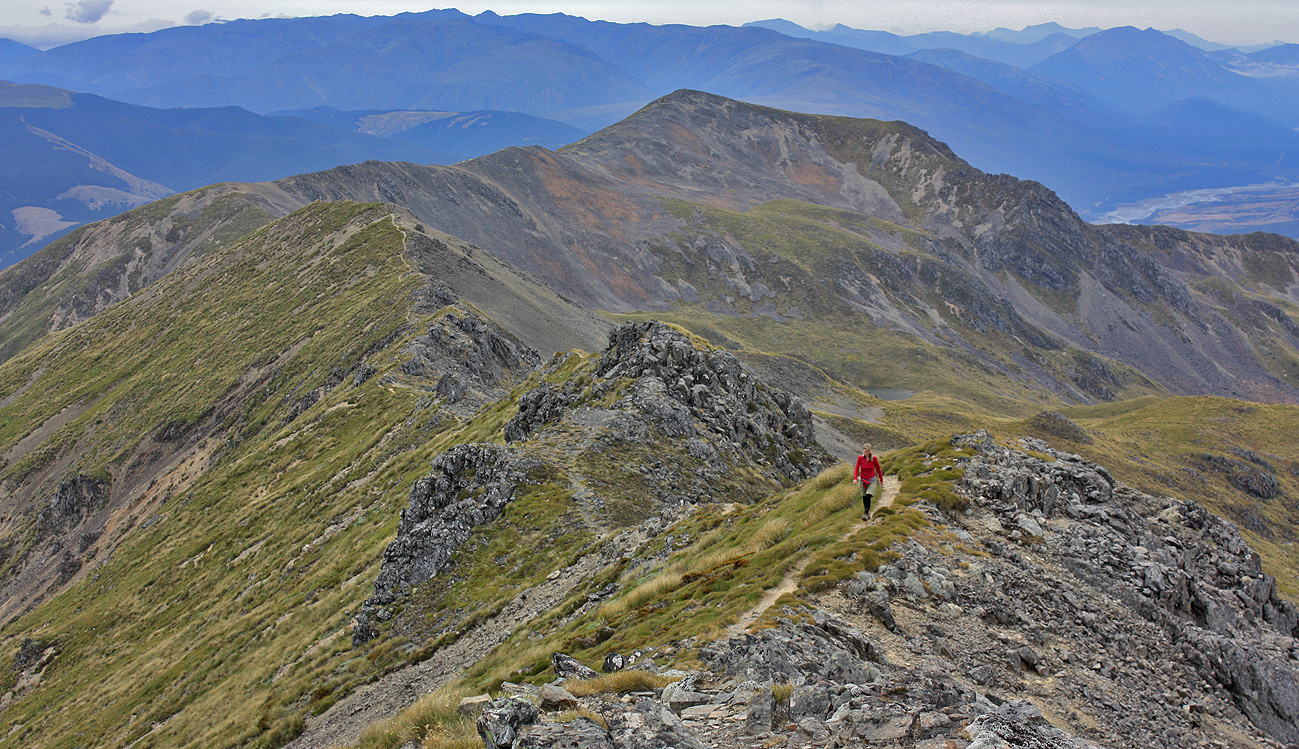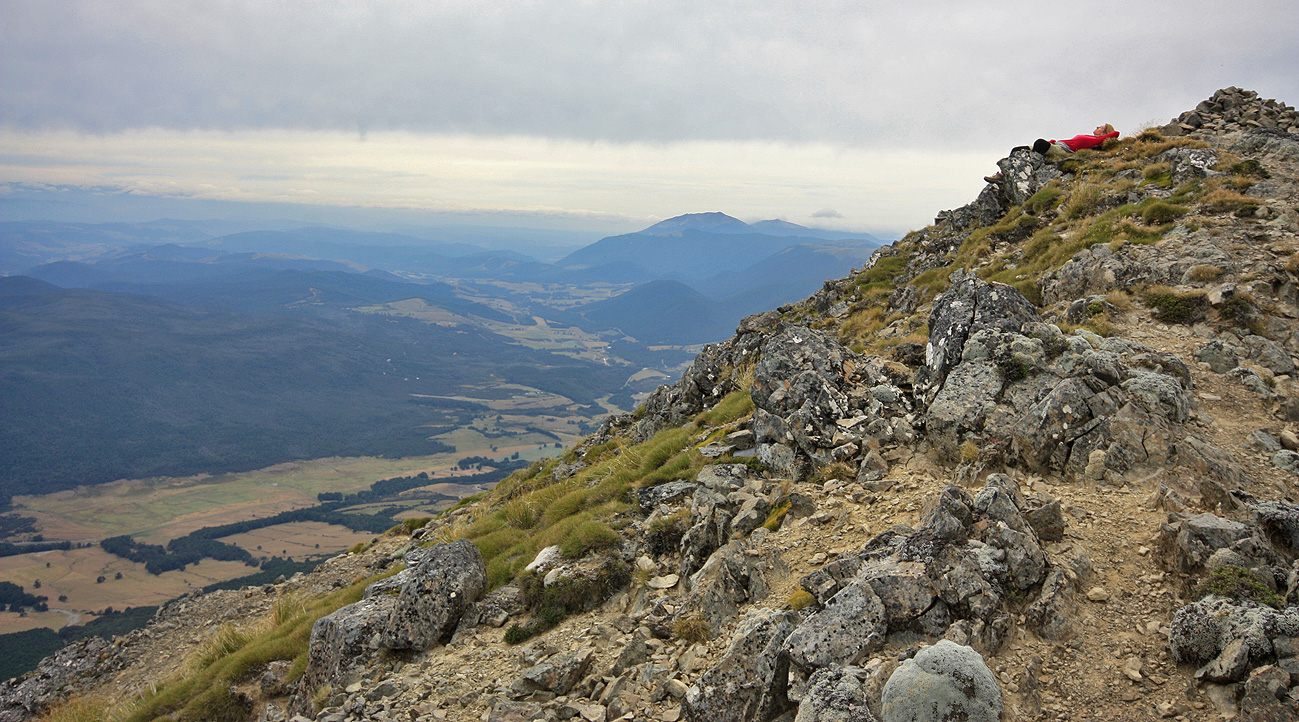 After the hike we drove to Reefton and found a campground with electric for 28$. Reefton was a quaint little town. It seemed that every town we went through we said the same thing…"What a cool little town!."