The Beginning, March 22, 2012
Baja had always been on my list of things to do, including Sea kayaking in the sea of Cortez which is on my life list. The fact that I just bought a BMW GSA 1200 motorcycle made the trip all that more enticing. Early Thursday morning, we set out from Phoenix for the town of Yuma, Arizona in preparation to cross the border into Mexico. Despite the warnings that have been issued by the government about Mexico being unsafe, I had heard from several people who had recently gone down that it was completely safe.
When you first cross the border you feel like you've just gone to another planet. Everything changes, not just the language. Our first taste of Mexican life was 50 feet into Mexico when we had to pull over and get a visa. My girlfriend went in to the office while I waited outside. A guy came up and asked if I wanted directions to Loreto. He then proceeded to draw me a straight line on a preprinted map. He wanted to wash the windshield on my motorcycle. He told me not to trust anyone. I replied "You mean like if a guy asks to clean my windshield?" He laughed. I gave him a few bucks and listened to a speech about how he works for the local alcoholic anonymous organization and is taking donations. He somehow works in that he knows where I could get some cheap pain meds from the local pharmacy. Yes, we are in Mexico!
With Visas in hand, we proceeded towards San Felipe. We took a couple wrong turns through the border town but eventually found our way to the main "highway". The poverty that we saw was astonishing. It is hard to imagine that people actually live like that. Imagine a strip mall in the projects. There were random dogs everywhere. The stop signs are not nearly as visible as in the United States. I must've blown through half a dozen stop signs during our trip on accident. The further we got into Mexico, the nicer it became. The houses started looking nicer and the restaurants started looking more appealing. Our first stop was at a little restaurant called Yocojihua on the side of the road where we ordered Carne Asada(Beef) tacos. We each had three in addition to chips and salsa and side plates of toppings for the tacos. We each had a couple of beverages and the grand total came to seven dollars. It was delicious. After lunch, we continued south toward San Felipe.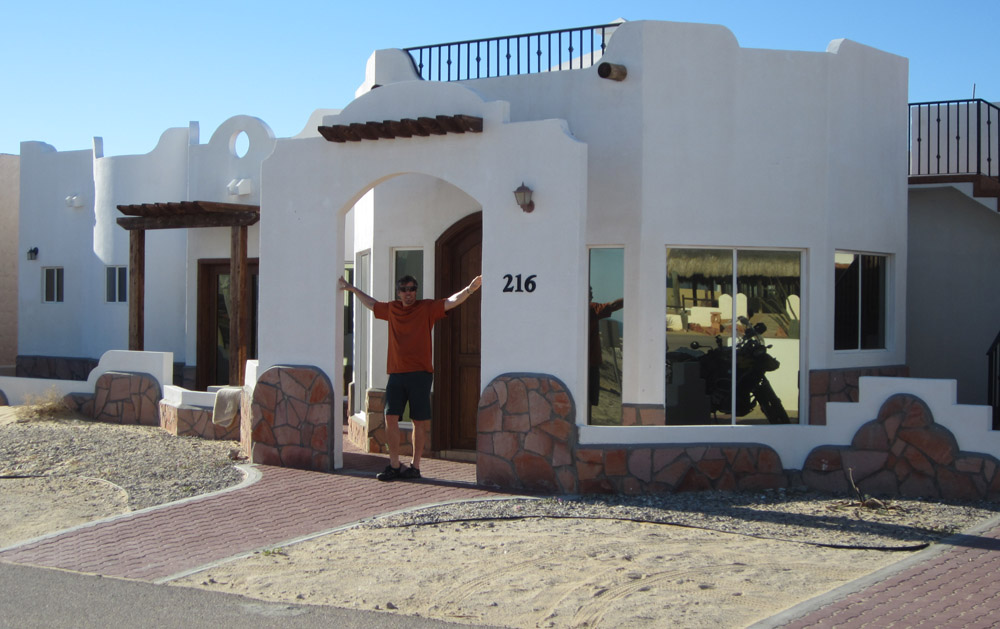 We had rented a house for two nights in San Felipe(based on a recommendation from my friend Carl… I am quite sure he's getting a cut because he pushed us very hard to rent this house :-). That was the only reservation we made for the entire trip. We were winging it as we didn't want to be tied down anywhere for any length of time. About 30 miles outside of San Felipe, we hit a military checkpoint. They made us get off and turn off the motorcycle and then proceeded to search our bags for guns and drugs. This was kind of a pain since everything was packed very tightly on the motorcycle. We continued towards San Felipe. We arrived about 530 and checked into our house. We quickly unloaded and headed for town which was to be our first shrimp of the trip. We ate Shrimp Scampi at a local hotel restaurant. It was absolutely delicious. We went back to the house and crashed as we had done 400 miles that day.