Prologue
Thanks for tuning in to check out the Iceland travel journal. A couple of things I wanted to mention before you get started. First, there are multiple pages so don't miss the links at the bottom or use the main menu to change to the next page.  This is the most difficult time I have ever had choosing the best pictures. 1500 pictures and 40 video clips to choose from. I passed up so many shots that were good because pulling over the van is not feasible on Icelandic roads in most situations. I also left many great shots on my hard drive but you have to cut somewhere. There are no photoshop tricks here. The scenery was as stunning as the pictures show.  There are 3 videos spread throughout these pages and they are all set to music so make sure you have your speakers on.
We travelled counterclockwise around Iceland and did many dirt roads and side jaunts off the main road 1. We planned about 15 things we wanted to see around the country and then plotted them on the map. In most cases this led us to even cooler things than we originally wanted to see. We had no time table other than our flight back. Iceland is setup with access to the outer edges of the country via Highway 1 and the interior is very rugged and inaccessible to most without monster truck like vehicles. Campervan is the only way to go if you want to leave things open for exploration and not be tied down to hotel rooms. Not too mention, hotel rooms are insanely expensive. More on that later. Temps ranged from 50-65 degrees the entire time we were there. We had a few days of rain, a few cloudy days, and the rest sunshine.  Happy reading!
Our route in grey…Places we camped are numbered  in green circles corresponding to the nights on the trip
(click for larger image)
Taking Iceland by Storm
Wheels down at 8:20am August 15th in the dense cloud covered island known as Iceland. It has nicknames such as the land of 10,000 waterfalls, the land of fire and ice etc. All this for a country the size of Ohio. I'm from Ohio and there might be 100 waterfalls…maybe. We went through immigration and the guy never looked at us. He just stamped our passports and mumbled something  unintelligible in icelandic. I'm guessing it translated to "damn tourist" or something like that. Customs in iceland is non existent. You walk into iceland like you walk into Wisconsin, save for the passport stamp and getting cursed in icelandic. Nobody checks your bags. This is quite a switch for me after going through hell in New Zealand because of some open beef jerky and a few Clementines. Apparently the winters are so harsh in Iceland nothing survives. Not even Jerky.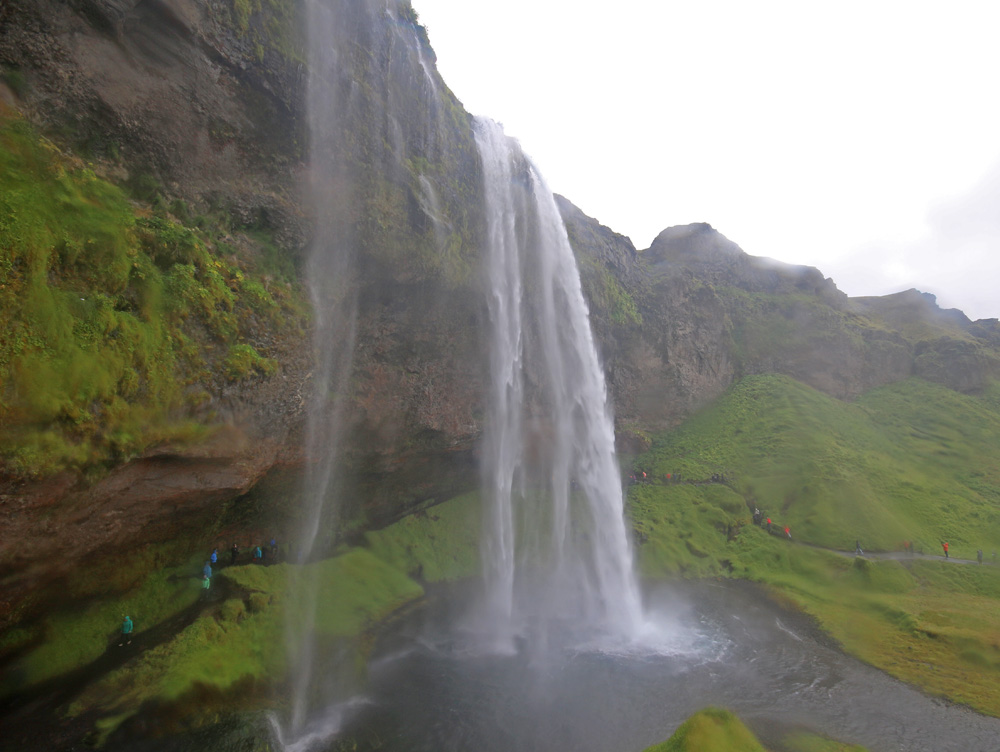 Seljalandsfoss
Icelandic Learning Curve
We hailed a cab from the airport to our hotel not realizing it was a 40 minute cab ride which set us back $150. We had to wait 5 painful hours to check in as we lounged on the couches in the hotel lobby looking like homeless American tourists. After going to the nearby cafe Lemon for a delightful smoothie and sandwich, we finally checked in and proceeded to sleep for about 4 hours. Iceland is 7 hours later than AZ time so it was time to adjust our clocks. We got up just in time for dinner at a nice steakhouse down the road. Very pricey as we were quickly learning everything is expensive in iceland. Our room accommodations where somewhere between a Motel 6 and Super 8 (Iceland 7?) but had the prices of a Hilton at $180 per night. The bathroom had a mildewy smell to it and the shower overflowed and had curved doors that were hard to open giving you a "trapped in the shower in Iceland" kinda feeling.  There was no counter space for toiletries of any kind. Little did we know this would be the best deal of the 3 hotels we stayed at during the trip.  After a restful nights sleep it was time to pick up the campervan and hit the road.
A side waterfall Gljúfrabúi near Seljalandsfoss
Hitting the road
We picked up the van and were pleased to find it had a roomy bed area in the back by night, and a table and benches by day. Our first stop was the grocery store where we spent about $250. Our first picnic spot was the glamourous parking lot of the grocery store as we sat and ate at our newly acquired table and bench seats in the back of the van. Living the dream! The first stop as we pulled out of  Reykjavík was a waterfall I had as my desktop wallpaper for the last 6 months called Seljalandsfoss. Most waterfalls have "foss" on the end in Iceland. This was a 200 foot beautiful waterfall you could walk behind. It was right off the main road 1 and you could see it looming from miles away. We also hiked to a side waterfall named Gljúfrabúi that was equally as spectacular and you could walk in a cave to view it. See pics above and below.
Hitting the F road
After taking in the waterfall we decided to try some off road and get away from the tourists. Our van was a 4 wheel drive which allowed us to drive on the F roads. You will be ticketed if you are on the F roads without 4wd. We stopped at a waterfall named Gugafoss and we had it to ourselves which was nice. We then headed inland to some spectacular scenery on F261. We passed views of Myrdalsjokull glacier and spectacular valleys and streams. We didn't see anyone for at least 2 hours as we were in a very remote part of Southeast interior Iceland.. It was getting dark(around 10pm) and we came over a rise and saw a guy walking while talking on a cell phone. We were blown away that we saw anyone at all and that there was actually service out there. We had taken a  wrong turn and stumbled into someone's hut hiking kinda thing called Emstrur so we turned around and got back on F261and parked right at the foot off a roaring stream which we would need to cross the next morning. See pic below for our view from the first campsite.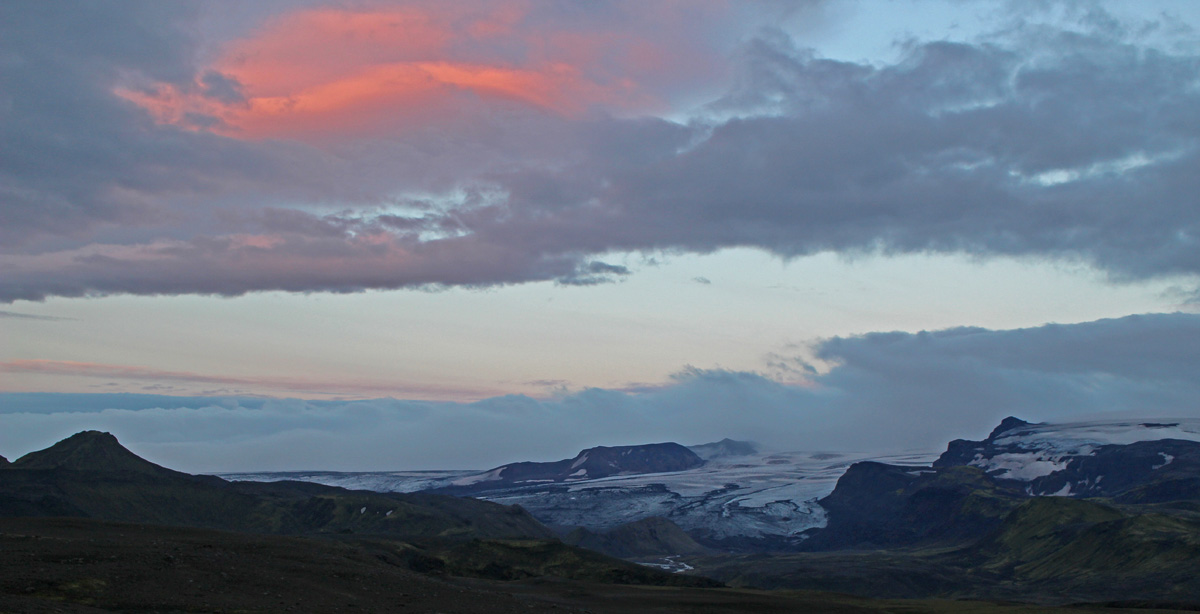 Myrdalsjokull Glacier as we explored F road 261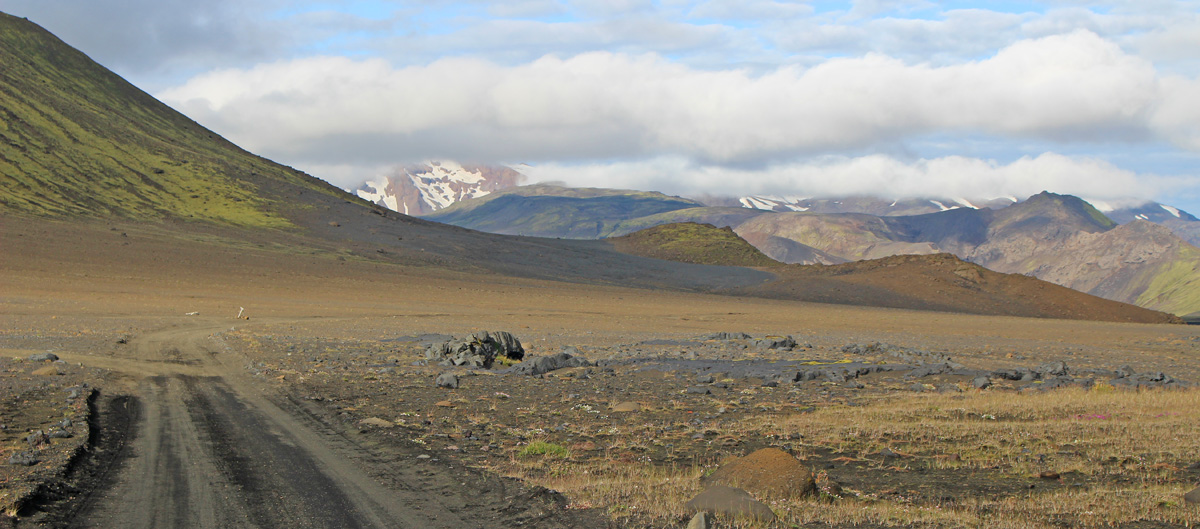 View from our first campsite in the campervan
We awoke the next day to beautiful views all around us. We crossed the river cautiously and continued on the F road to more spectacular scenery. We eventually arrived at a river so deep and swift, I couldn't imagine any vehicle crossing it. We turned around and decided to head for the town of Vik. In route we encountered yet another stunning waterfall right along the Highway 1. Skogafoss was massive at 197 feet tall and had lots of width to it as well. We took the stairs up to the top and found more stunning scenery and mini falls along the path.
Skogafoss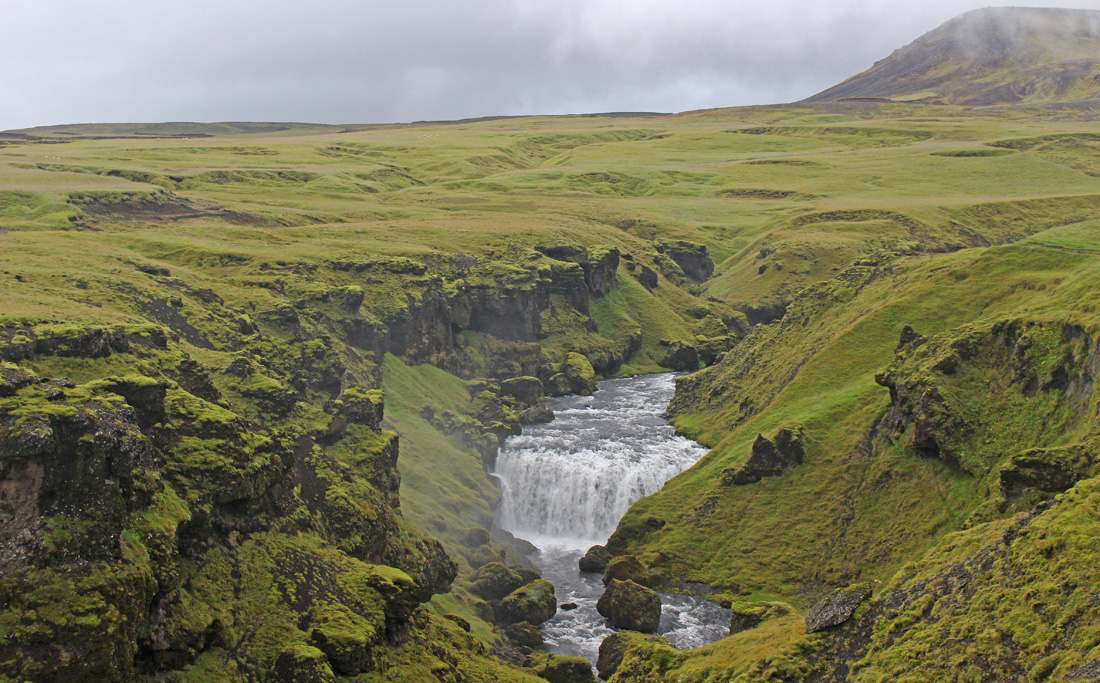 On top of Skogafoss
We decided to head to the coastal town of Vik after the falls as we had heard good things about it. We discovered that our powered cooler wasn't working and was just a normal cooler without any cool air. We lost some red meat in the process. It was time for a call too Kuku campers.  "Just buy some ice" said the guy at Kuku campers. You would think in a country named ICE-land you could buy ice everywhere. Think again. That was one of our biggest challenges on the trip. We were hungry and tired and decided to eat in the local N1 restaurant which closed right before we walked in. Around back  was a place that served pretty decent pizza. We gorged. N1 is the name of the local gas stations around the country that also serve food. The food is much better than our gas station food. Hot dogs consist of lamb and pork and are actually pretty good and healthier than their US counterpart. After eating we decided to try the local campground. Showers cost money all around the country and this campground was no exception. They were also out of hot water. However, you could take a cold shower for free . We passed and decided to wait for a more suitable place than this jam packed campground. This was the first and last night we would stay in a campground thanks to the campervan next to us opening and closing their doors until 2am.
The black beaches at Vik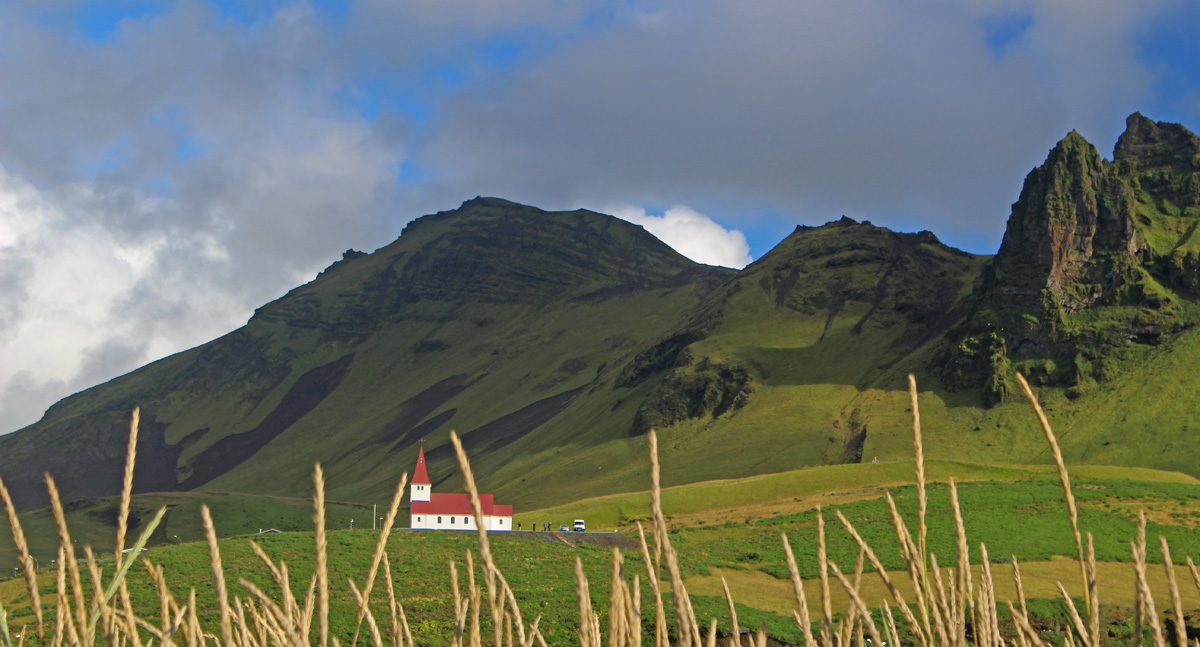 More Vik scenery