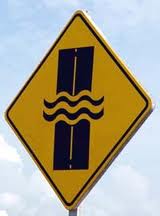 We got back to the hotel and decided to walk around town for a bit. We stopped in the local book store to take a look around. We met the owner of the store who was in her 60's, and she had just returned from having a visit with her kids who were on their way back to La Paz. They were from Chicago and this was the first time they had been down to see their parents since they moved 7 years ago. She told us their kids thought they were nuts when they announced they were going to move to Baja. Apparently it cost them more to fly to La Paz than it did for them to fly to Europe. She told us about Loreto and why she loved it and gave us some restaurant recommendations. After going back to the hotel and partaking in the hot tub experience once more, we set out for our finest meal of the trip yet. The place was right on the square and it was called 1697. We both had some sort of shrimp dish and it was excellent.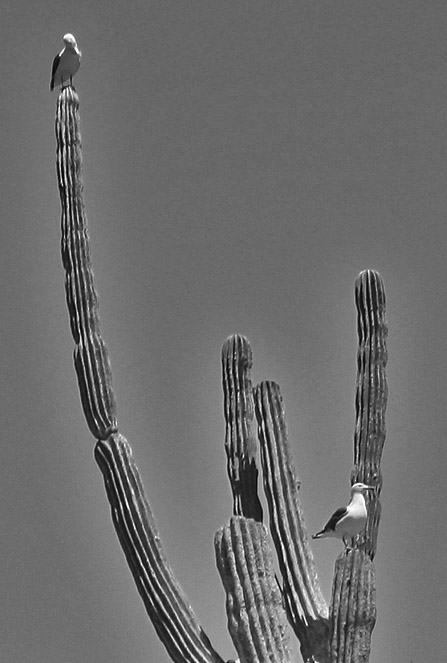 Heading North
Thursday we decided it was time to head back north. We wanted to make it to Guerrero Negro to give us plenty of time to do the 50 mile dirt road section the following day. We also wanted to stop in Mulege for lunch to check out the town a little bit. We pulled into the town of Mulege and just kept following what we thought was the main road. It took us onto a dirt road and then down to the sea. We saw a very cool looking restaurant right by the sea that looked enticing. Their menu consisted of pieces of paper stapled up on the wall. They miraculously had wireless internet. Gotta love it!
After feasting on shrimp tacos we saddled up and headed north to Guerrero Negro. We stopped by and chatted with Terry at the San Ignacio B&B and peeled off our jacket sleeves. It was 90 degrees. We hit another military checkpoint right outside San Ignacio. They were the most thorough of any checkpoint so far. They were going through toiletry bags. They finally gave us the wave and we prepared for the last 90 miles of the day. To my surprise the temperature dropped all the way down to 60 degrees by the time we hit Guerrero Negro. My girlfriend managed to put back on my sleeves while we were riding. Now that's skill!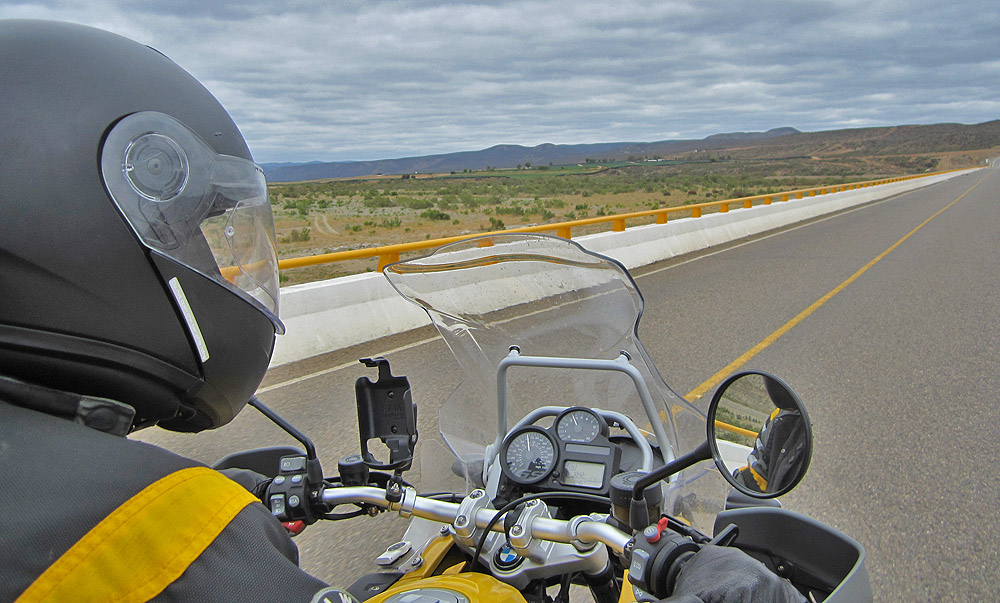 When we arrived in Guerrero Negro we went to the hotel that Terry mentioned. It was called Don Gus. She said it was the best hotel in town(which isn't saying much). We got a room and then opened the door to the room to discover rock hard beds and no heat. For $45 it wasn't bad. We decided to try and go get our money back and try the other hotel that looked decent in town. When we went to get our money back the guy suddenly acted like he couldn't speak English. Classic. We ended up bailing anyways and checked into the Malarriamo which also had a killer restaurant attached. It was $50 per night but well worth it. For some reason most of the hotels want a $10 deposit for the remote control. They must have issues with people stealing the remote control. We had a nice dinner which consisted of, you guessed it, shrimp!
If at first you don't succeed….
Friday we awoke to cloudy skies and cool temps. This was the big day of trying to get through 50 miles of rocky, sandy, wash boarded dirt road. If I couldn't do it we would have a much longer route back home. We headed north about 110 miles to the turn off. I changed the suspension to off road setting and removed the ear plugs. The road looked pretty tame at this point and my confidence was building. There were enough washboard sections to make me stand on the pegs most of the time. The road got windy and twisty sloping up and then down through some gorgeous scenery(although my focus was on the road). There were lots of softball size rocks laying around. That I could handle. At about the 14 mile mark we rolled into the infamous Coco's. This guy has been on this corner for 21 years. Officially it's a tire repair shop but it's much more than that. Coco is quite the character. He lost both his legs and is still managing to function. Coco has coke and beer for sale. Anyone in the area should stop by and see Coco. Check out this short you tube video of Coco. We hung out with Coco and several other people who stopped to greet him for about 30 minutes. One of the guys who stopped told us that the San Felipe water had recently been tested and was cleaner than any water in the US. He also recommended Hotel Azul for our nights stay in San Felipe. He then invited us to go to the bar he owns, Al's bar, and said he would buy us a drink.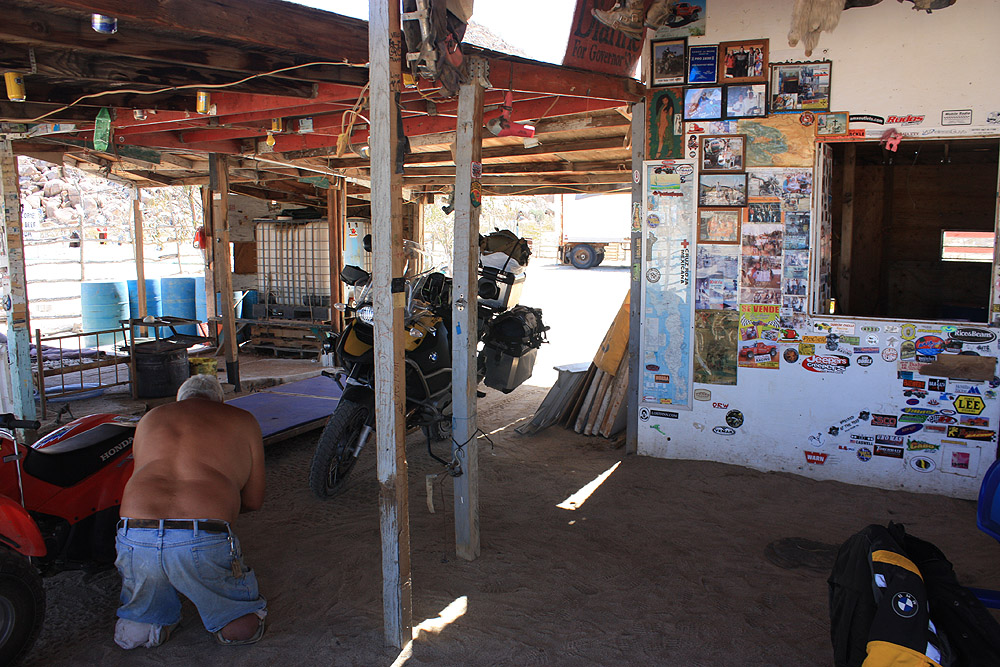 We continued on after our visit with Coco. After about a mile or so the road started to get a little looser and sandier. The bike started to fishtail and i would just gun it to straighten out the bike. At 30-35 miles an hour that is a scary task. Every instinct says slow down but the truth is that more speed and throttle makes you more stable. While climbing a hill and standing up, a desert big horned sheep sprinted right across the road about 20 feet in front of me. I realized how that could have been disastrous but was too excited at having seen a desert big horn. The rams horns on the side were extremely cool. My girlfriend never saw it because I was standing up in front of her. After a half dozen or more close calls where I was sure the bike was going down, we pulled into Gonzaga Bay. We had now done 35 miles of sketchy dirt road.
We saw the sign for Alfonsias restaurant and motel. It was another 1.5 miles of dirt road but at this point were were pretty hungry. The place is right on the water and although the hotel is not that nice, the food was decent. Shrimp Tacos anyone?

We only had 14 miles of dirt road left. I knew this would be the sandiest part so far. With both passengers, gear, and the bike itself, it probably weighs 1100 lbs. Probably not the best scenario for sand. The road started out pretty decent and you could see they were only a few miles from being done with the pre-construction for the road paving. The road started to straighten out and I felt we were getting closer to the pavement. Just when i was feeling confident the sand started to thicken and we had several close calls again. I would stop and rest every so often and both my feet and hands hurt from trying to stand up on the pegs and gun the throttle. Finally, I could see the pavement in the distance and I knew that we had made it. A celebration ensued and then we climbed back on the bike and headed towards San Felipe which was 85 miles away.
We arrived in San Felipe and found it to be much more alive than it was the week before when we were here. It was Holy Week and there was nothing Holy about it. Lots of celebrations and alcohol were in the air. We went to eat at El Nido for dinner and decided to deviate from the norm and I ordered a Filet Mignon which was delicious. It was huge and I think I paid $18 for it. After dinner, we walked around and ended up in a tattoo parlor looking for a mens earring. There we met Casey who was 67 years old and full of energy. He had moved down from Sacramento a number of years ago and had owned 6 different businesses in San Felipe including a Yoga studio and bakery. His tattoo parlor was the only one left standing. He talked about how bad the economy had hurt San Felipe but felt that it was starting to come back. He had lots of ideas for us about businesses that he thought would succeed. We must of chatted with him for about an hour and I bought a new earring for $1.80 American.
We decided to follow the recommendation and check into the Hotel Azul. We should have learned from our last experience not to follow any ones recommendation. At 11pm the noise was so loud that we got up, packed up the bike, and went down the street to George's hotel which was much nicer, and quieter. That was the best $68 we spent the entire trip.

All good things must come to an end
Saturday morning the realization started to hit us that vacation was almost over. We had a 400 mile day ahead of us on the bike. We decided to eat breakfast in George's restaurant attached to the hotel. It did the trick just fine. We packed up the bike and headed for home. We decided to cross at Mexicali this time and that turned out to be a mistake as there was a lot of traffic and the lines to get back in the US were a mile long. Always cross at Yuma as there are no lines or traffic. Finally back in the US we rode off into the sunset and reminisced about what a great time we had. Adventure never felt so good.
Epilogue
We never felt unsafe(other than the crazy drivers) the entire time we were there. Don't believe the hype. There don't seem to be any traffic laws in Baja, only traffic suggestions. I quickly figured this out and began to ignore the speed limit signs. However, there are enough obstacles on Mexican roads to make you use caution. We never got sick from drinking water. We found all the people to be very friendly. The roads are absolutley crazy in spots. There are random speed bumps in the middle of nowhere, metal saucers stuck to the road to slow you down, and many different potential animal hazards along the way. We saw cows, goats, big horned sheep, dogs, people on mopeds, and many potholes along the way. You need to be alert, espescially if you are on a motorcycle. You should get a visa(can get this just after crossing the border), mexican car insurance, and have a passport.
jc