What the heck is a Landmannalaugar?
After the underwhelming campground experience at Vik, we decided to once again head to the F roads and set our sites for Landmannalaugar. I had noted that this was a place I wanted to see but was unsure really what it was. In my notes I had "volcanic area..cool scenery." That could describe most of Iceland. But we set our sited for the long drive on F roads. We had no idea what we were in for. As the video above shows, we drove through many creek crossings and had absolutely stunning scenery. The four pictures below are from the drive in and out. I have a new respect for Toyota vans as this thing handled all of them like a champ.
           Cool picnic spot along the way. We crossed the creek in front of the van twice.

When we finally arrived at Landmannalaugar we were greeted by a natural hot springs area. This was no touristy bathing pool. This was the real deal. A creek in the middle of grass that was hot. Parts of the water were too hot. We read the sign that swimmers itch had been reported since 2006. We figured what the heck, you only live once. Plus we wouldn't be doing any swimming so we thought our chances were pretty good :-). There were parts of the water that were so hot, we had to stay nearer to where the colder parts were. After the hot springs we decided to hike up the trail a little ways. We found out that Landmannalaugar is a naturally occurring volcanic area with hot springs and is also the start of a hut to hut trail system.   We walked up and saw some naturally hot areas where steam was being emitted from vents in the ground. Pictures below.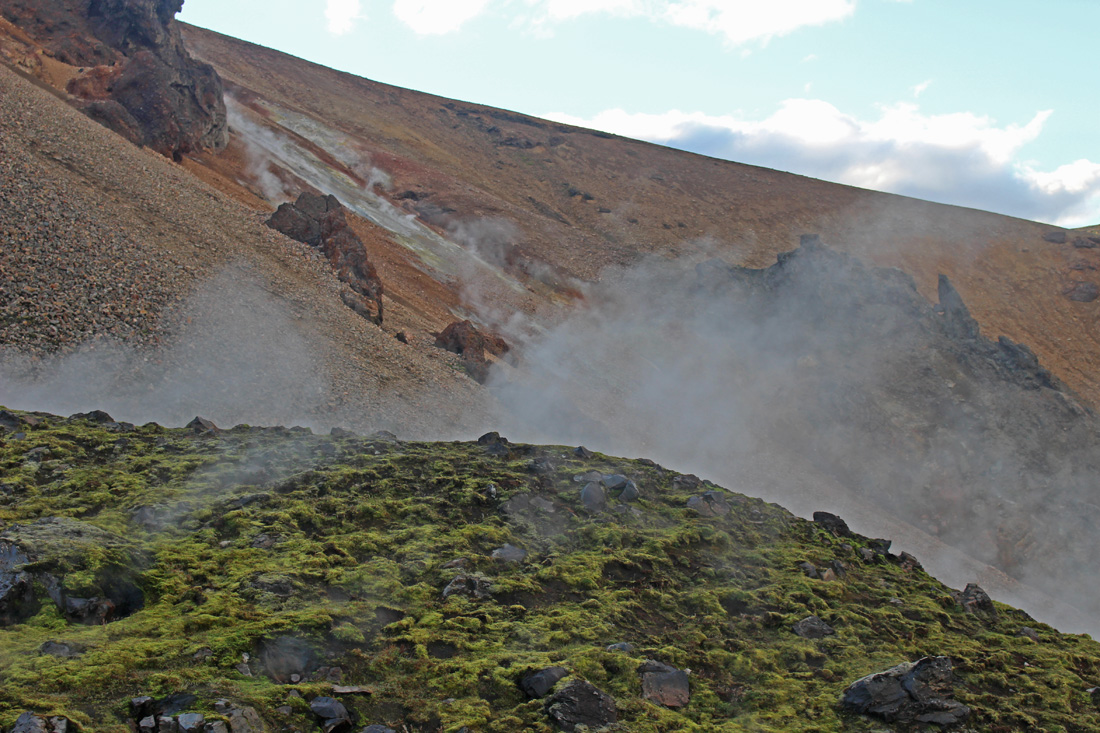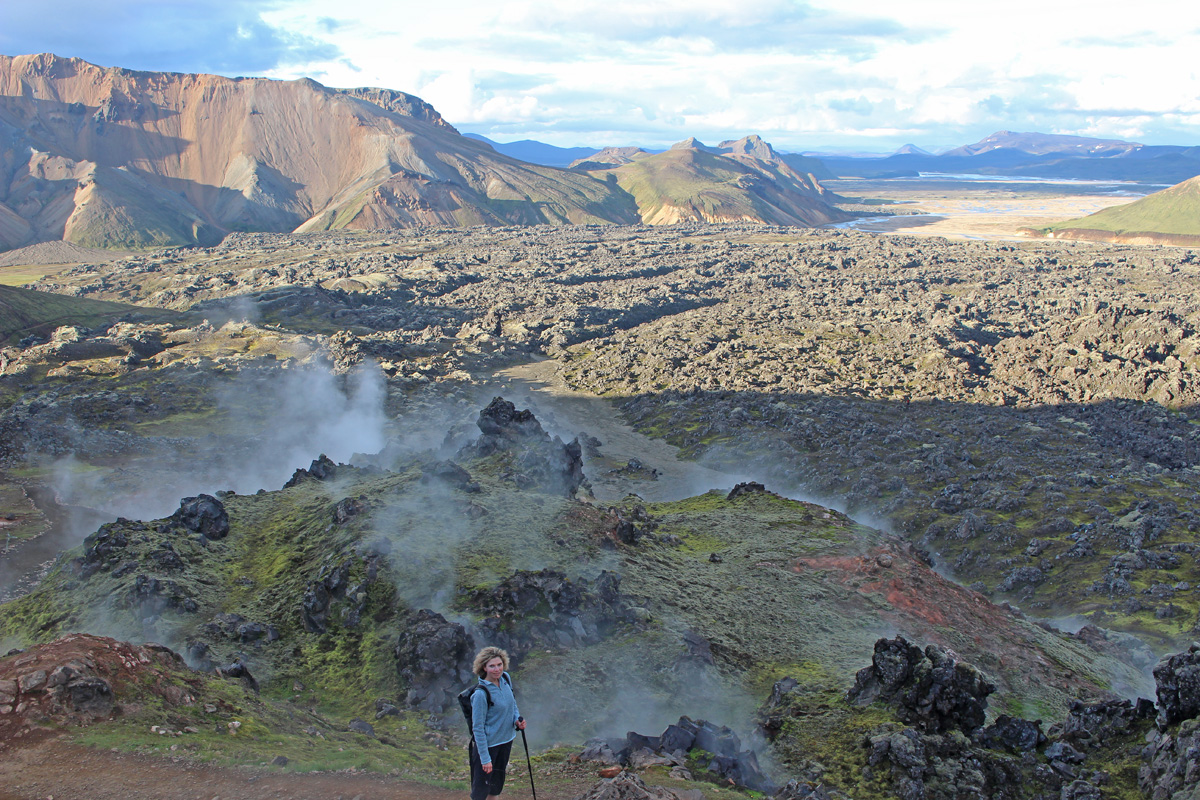 The hike was very cool with a lot of variety in scenery. We decided to try and find a nice campsite in the area for the night. We ended up parking next to a river a few miles away from Landmannalaugar. It was a cold night and the odd thing is you feel like you're camping at 10,000 feet judging by the mountains and scenery when the reality is you are probably around 1000 feet above sea level. In the morning we awoke to a bank of fog that was engulfing the entire area. I snapped the picture below.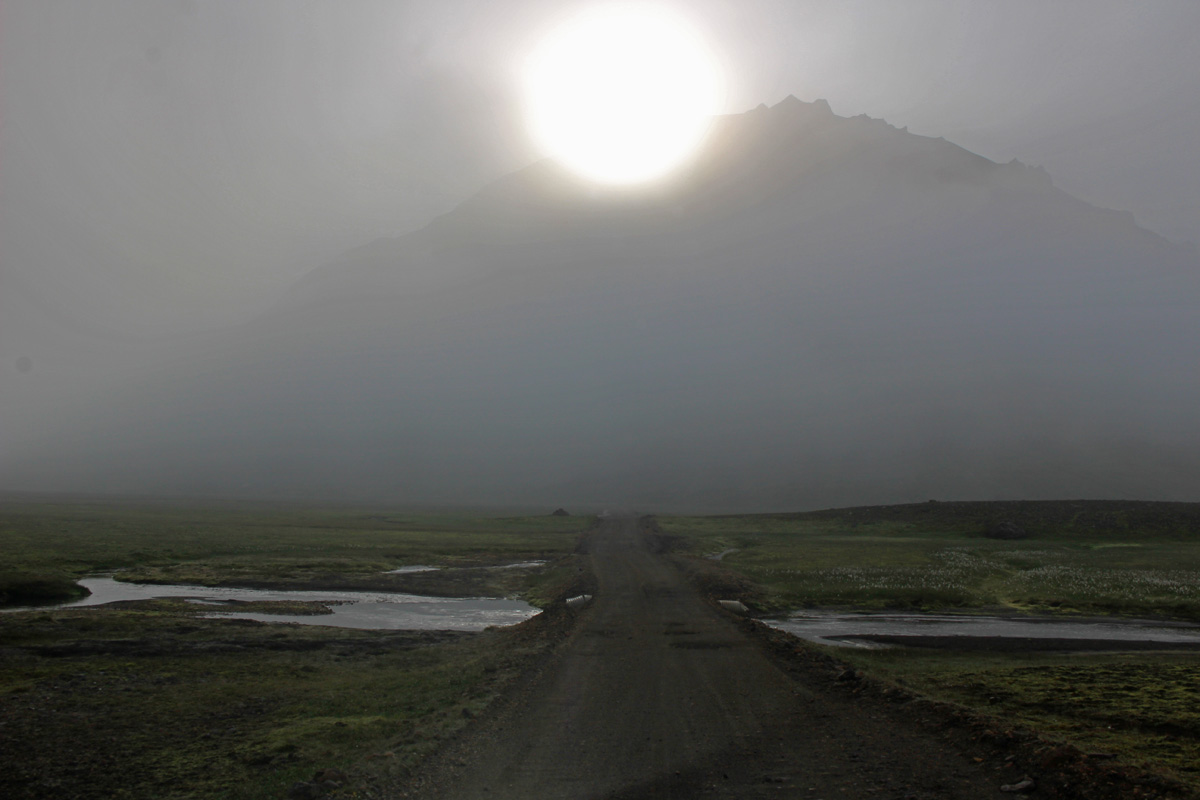 Driving on our way out of Landmannalaugar
    Driving on our way out of Landmannalaugar
Seek and you shall find
After a breakfast we decided to head back to the main road and head north to the more remote Northern iceland. We came to a fork in the F road on our way out and a sign that said Eldja. We decided to check it out since the sign indicated it was only as few kilometres down the road. What we found was stunning and the biggest unexpected surprise of the entire trip. Eldja is a 40 km long eruptive fissure that erupted in 934 AD. It is 600m wide and 100m high. As you can see by the pictures below, it is visually stunning. We had no idea there was a waterfall as we casually strolled through the valley floor. Not only was there a waterfall, It also had a rainbow at the base of the falls. Jackpot moment!. The name of the falls is Ofaerufoss.
After taking in the falls we decided to hike up to the top of the rim to get a different perspective on Eldja. It paid off as we got a birds eye view of the entire canyon as well as the falls.
  On our way up the the top of Eldja with Ofaerufoss in the distance
After the exhilarating hike at Eldgja, we decided to head north to the town of Kirkjubæjarklaustur. I love how that just rolls right off the tongue. We checked out a local waterfall and decided we would try a hotel in the area for the night. The first hotel wanted $400 for the night. Ouch. The second hotel we checked out , Hotel Geirland, wanted "only" $250. The lady said they were already mostly booked for summer 2017. We got lucky they had space as the woman explained a large swiss party had cancelled. Never can trust those swiss! It was a quaint cottage style room with just enough space for two people and luggage. We enjoyed nice hot showers that didn't require coins and a nice meal at the hotel restaurant.
Glacial Estate
The next morning we ate the traditional european breakfast at the hotel consisting of hard boiled eggs, toast, jam , granola, and Skyr. Skyr is a yogurt type of thing only found in Iceland. It is richer and creamier than yogurt, like pudding. I'm not a huge yogurt guy but I did enjoy the Skyr. With full bellies we explored another local waterfall that had twin slides. It was hard to get a good picture of it as there weren't very good vantage points. Then it was on to Skaftafell where the largest glacier in Iceland exists. The national park is named Vatnajökull. We checked into the tours there and the ice cave tour sounded very cool but they could not guarantee you would get to go inside the cave. We decided it wasn't worth paying over $200 to walk on ice. We decided to take a hike to a vantage point overlooking the glacier. Pictures below.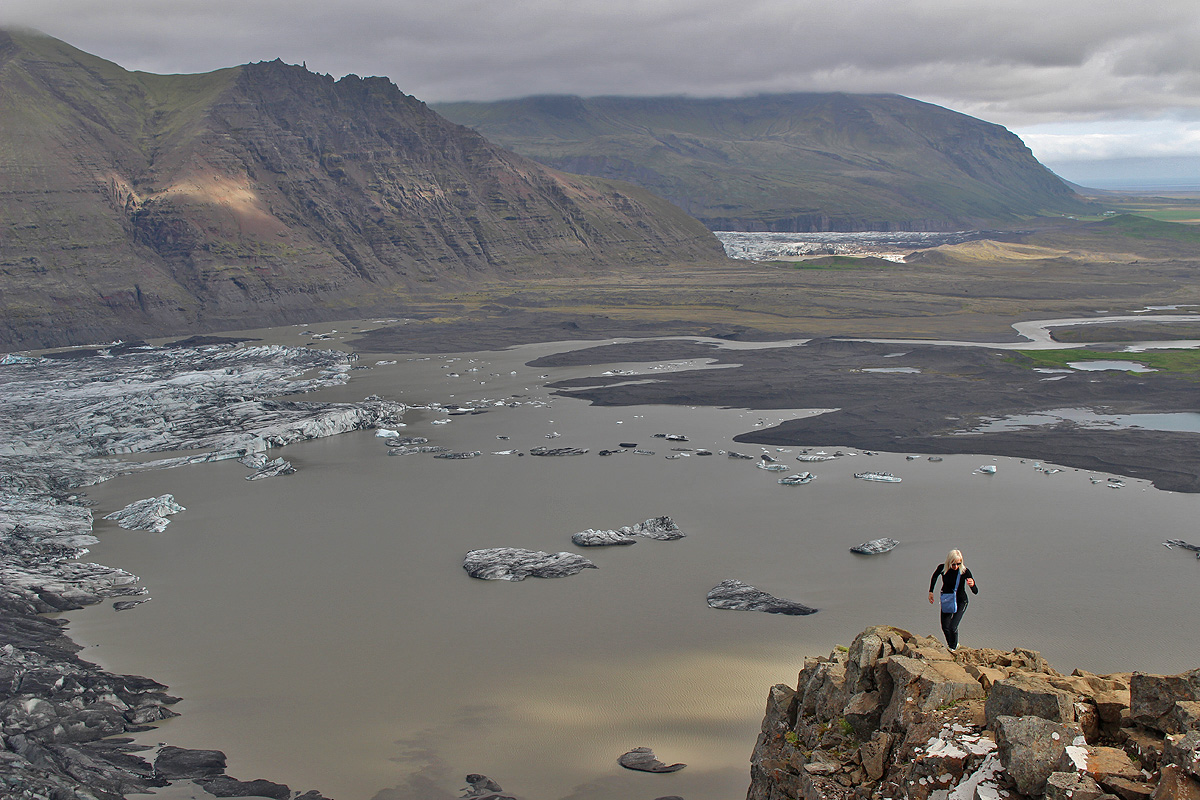 After the hike we kept heading north  to Jökulsárlón Glacier Lagoon and stopped to see the floating icebergs that broke off from the glacier. Very cool site indeed. We snapped some photos and kept heading north to Hofn. We decided to camp here for the night and thought we could camp in a  apartment complex parking lot but quickly realized there were no available facilities, or cover for our obligatory bodily functions. We decided to eat in the parking lot and then set out looking for a suitable roadside spot with some privacy. We found one right as darkness was upon us.

  Jökulsárlón Glacier Lagoon