After driving through the Bay of Conception we got back into the desert scenery all the way until we hit Loreto. Loreto is a quaint little town right on the water. We went to 4 hotels until we finally decided on La Mission Hotel. At $120 a night it was a bargain. We decided to walk around Loreto a little bit to explore the town. We ended up buying a Mexican hand woven blanket from a guy who told us it took him 9 days to weave it on his loom. We were entertained all the while by his little puppy named "Obama". We ate at a little café on the square called Cafe Ole. We had a nice meal there and then proceeded to go over to Land and Sea Eco tours. We were told that for $75 each we would get sea kayaking, snorkeling, swimming with sea lions, and close dolphin encounters. They provided lunch and a wet suit! What a bargain! We booked it for the next day.
After all that hard work it was time to enjoy the hot tub and a Pina Colada. We didn't see anyone the entire time we were in the hot tub and there must have been about 5-6 guests in the monstrous beach front hotel. Thanks US government for telling everyone that all of Mexico is unsafe! That night we went to a restaurant based on the recommendation of Sarah at Land and Sea Eco Tours. The place was called Mita's and it had a nice outdoor seating arrangement. My girlfriend ordered the spiciest thing they had(some shrimp dish) and paid for that choice the next morning. The food was good but the service was slow. Thankfully, they had a guitar player that played American classic rock and roll with a Mexican influence.
Life List 
Wednesday we awoke with anticipation of the day's events. We got down to the docks and met with our guide for the day, Hector. We headed for Coronado Island for the day's festivities. On the way we spotted a school of dolphins. He told us to get to the front of the boat as the dolphins would swim right in front of the boat. He was right and we snapped photos like Japanese tourists.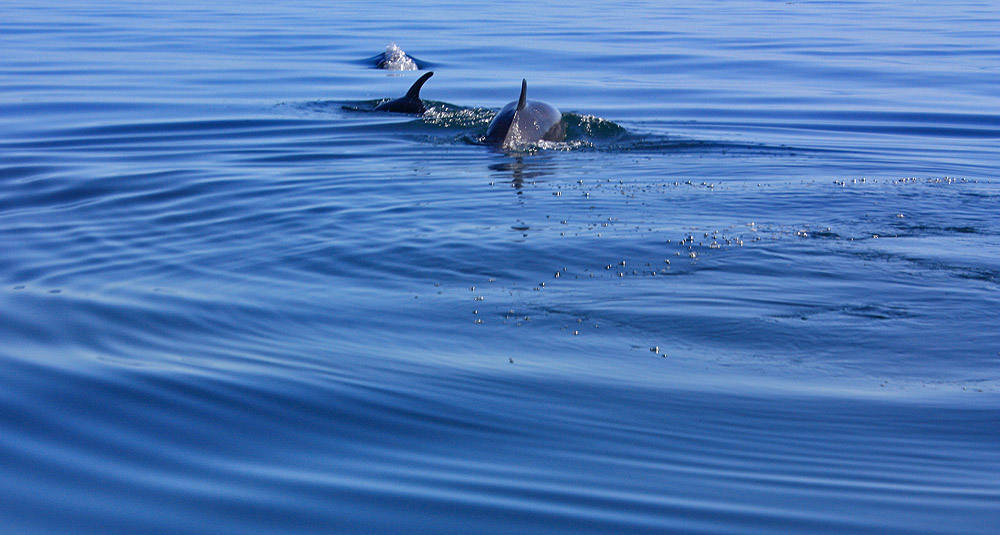 The next stop were the Sea Lions. Hector asked us if we wanted to swim with Sea Lions. We responded with an enthusiastic "yes" and we threw on the wet suits and snorkel gear and began to swim as the Sea lions came within inches of my feet and outstretched arms. One of the coolest experiences I have ever had.
We climbed back in the boat and were giddy with excitement. The next stop was a little bay where we could snorkel and sea kayak. The seas were very calm that day and it times it felt like the boat was skimming over glass. We pulled into the bay and it was a postcard like scene with white sands and turquoise water.
We went snorkeling for about an hour and saw tons of fish along the reef. I saw a spotted puffer fish and a Queen Angelfish that was pretty big! We saw lots of Sergeant Majors as well. After snorkeling it was time for our lunch which was quesadillas. The lunch was decent and somewhat surreal as we were eating on this amazing Shangri la like spot. We finished up lunch and got ready for the kayaking portion of the day. As we started paddling around the bay,  I was happy to achieve another life list goal.